Discover in personalities and signs of the time of Murten battle on the walls of our hotel floors. The young local artist Sam Embleton designed them and describe them as follows:
MUSIC was as much part of everyday life as it is now, but it was all made by the people themselves. Many played instruments and most could sing. It was always so until radio, recordings and computers replaced many human creative skills.
THE BAGPIPER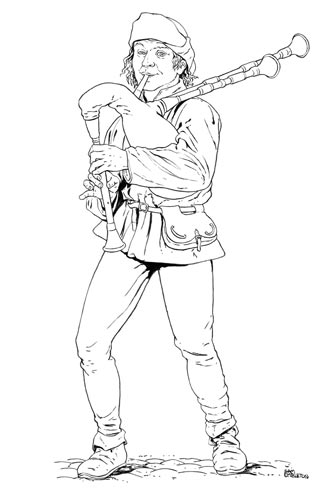 Drums, pipes, flutes and bagpipes provided music for pleasure, celebrations, dancing and for marching to war. In 1476 you would have heard the sound of fifes, drums and bagpipes in the taverns and in the streets, when the long columns of men marched off to battle.
THE SOLDIER
All men owed their community military service. They were drilled and partly equipped and served together in military formations. This is the typical equipment of a Swiss soldier, helmet and breastplate and sometimes armour for the arms and legs. This man is armed with a typical crossbow, a very powerful weapon which could be shot three or four times a minute. He has also a short cutting sword and at his feet his share of the enormous booty captured from the Burgundians.
WOMEN played a very big part at all levels of everyday life. They raised their children, ran farms and homes, shops, estates, family businesses and castles, while their husbands worked, played at war and travelled, they even participated in the world of politics.
LADIES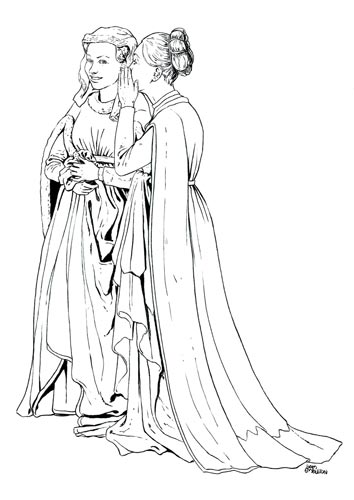 The wives of nobles, knights and successful merchants could afford to wear rich clothing but they wouldn't have worn floor-length enormously expensive dresses when working or supervising dirty work. They could afford to wear suitable clothing for the work they were engaged in.
WOMAN HANDGUNNER
Women also owed service to their community. Some accompanied their soldier husbands on campaign and Swiss artists, covering the war like later war artists, drew them carrying water for the soldiers, working in camp and on the march, sometimes well armed. This lady was drawn fully equipped with a handgun, powder and ammunition serving as a memeber of a company of gunners. Her practical woolen clothes and linen headdress were worn by most women at work. On her headdress she wears the badge of Fribourg.
THE BLACKSMITH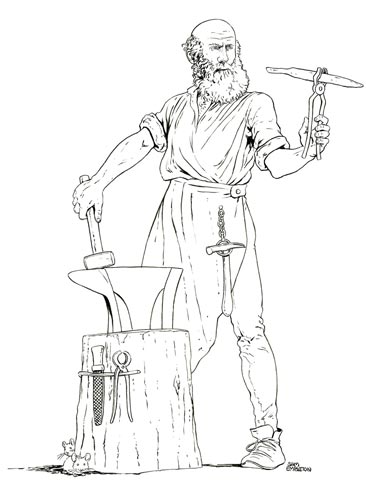 Almost every village had at least one who shoed the horses, kept tools and metalwork in good repair and wagons and carts running properly. They were the motor mechanics of their time. They could also keep armour and weapons in good condition. Full armours were not heavy and clumsy, they didn't restrict movement and they weighed about the same as a modern soldier's equipment. The armourers who made them were the most skilled metal workers in their world and their finished products were the equivalent of the Lamborghini or Rolls Royce of a modern millionaire.
THE DUKE OF BURGUNDY (1433 - 1477)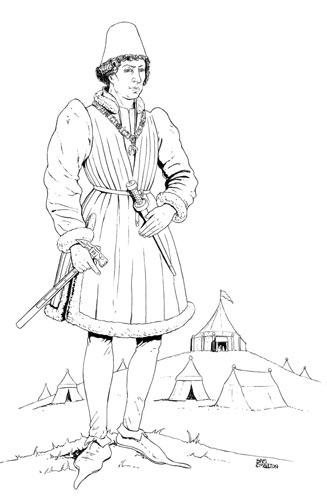 He was a young nobleman climbing in power and constantly fighting for his position, steadily increasing wealth and growing supporters around him, like the owner of one of today's great international industrial companies.
HERALDRY
Every leader and every community had special badges and symbols to identify themselves. These might be reduced to the colour of soldier's clothing, badges based on the coats of arms of the leader that they served or full embroidered banners of rich materials decorating coats, tents and flags.